Systematic Approach to Strategic Planning and Execution
Strategic Planning is a core competency for any organisation or business leader. But often it is underdeveloped as a discipline or lacks a structured management framework. Yet planning is not enough for achieving your strategic outcomes. Delivering on the committed strategic goals requires driving strategy execution, which is becoming the number one priority for CEOs*.
That's why we rely on the Hoshin Planning process. It provides a systematic and structured roadmap for developing breakthrough goals, and planning and managing progress towards achieving your strategic goals.
The classic Hoshin Planning process involves 7 steps:
1. Establishing organisational vision;
2. Developing Breakthrough objectives;
3. Developing Annual objectives;
4. Deploying Annual objectives;
5. Implementation of Annual objectives;
6. Monthly reviews;
7. Annual reviews.
In simple terms, Hoshin is the marriage of 'Management by Objectives' with the Deming 'PDCA' (Plan, Do, Check Act) cycle.
The core idea behind Hoshin is that goal deployment is a two-way process, where goals and targets, and the implications of achieving those goals and targets, are discussed at every level in the cascade through a process called "catch-ball".
It is this "catch-ball" dialogue that ensures that the action plans resulting from the cascade of goals are tangible, realistic, and as a whole, the execution plan remains feasible.
Beyond the first stage, which focuses on strategy development (a task that most leaders and organizations are reasonably proficient at), the key focus of the Hoshin process is on strategy deployment and execution (a task that there is clear evidence the majority of organizations struggle with).
Four key words can be used to sum up the Hoshin process – focus, clarity, alignment and follow-up.
This process together with innovation and business development, and improvement tools can help you build a powerful strategy planning and execution system that involves your entire organisation in a collaborative way, and maximises the percentage of the strategic outcomes that are actually achieved.
Want to continue your journey to successfully executing your projects and programs? Download your copy of this guide to discover why Hoshin Kanri is helping organizations across the world realize unprecedented results: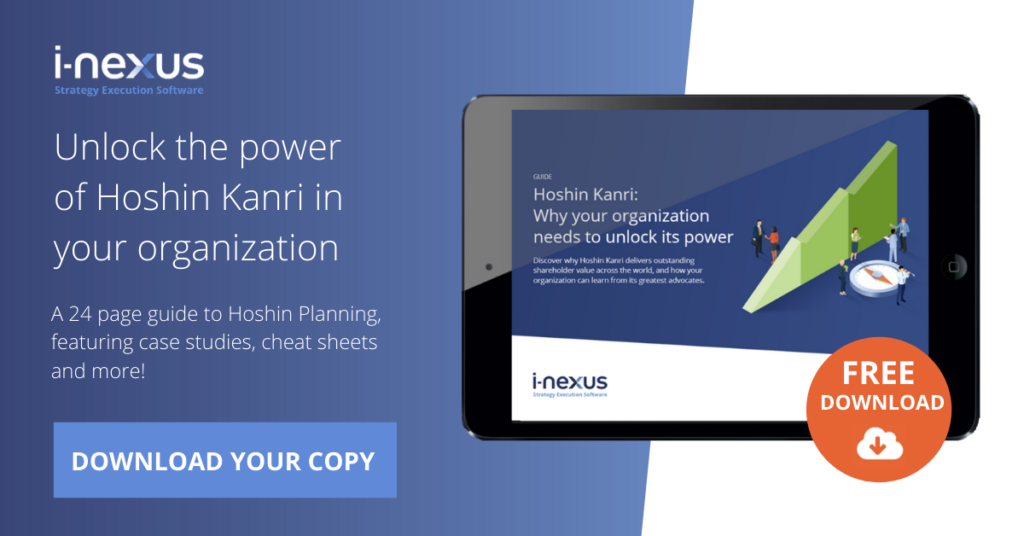 *Harvard Business Review, March 2015